Partnership Announcement: IIJ Global Solutions Vietnam vs VMWare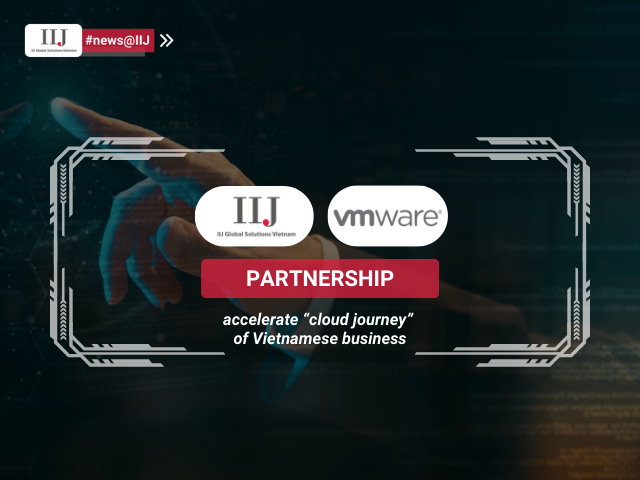 Vietnam – 30 August 2023 - Today, IIJ Global Solutions Vietnam, a trusted Cloud Provider in Vietnam since 2016, announced an expanded collaboration with VMware to enable further acceleration of cloud adoption of enterprises in the country. With a comprehensive range of offerings including internet access, outsourcing, and systems integration, IIJ Global Solutions Vietnam has solidified its position as a leading provider of network usage solutions. Boasting an extensive client base of over 2,000 organizations and offering more than 15,000 physical servers, the partnership between IIJ and VMware has enabled seamless and rapid cloud migration under the "IIJ GIO" brand since 2009.
This strategic move reaffirms IIJ Global Solutions Vietnam's commitment to delivering exceptional advisory, deployment, and support services to customers in Vietnam and the surrounding region by harnessing VMware Cloud technologies. The HI GIO Cloud powered by FPT and IIJ Global Solutions Vietnam combines the advantages of a public cloud, such as ease and convenience, with the flexibility offered by a private cloud. IIJ Global Solutions Vietnam enables seamless integration of customers' existing systems into VMware-based hosted private clouds without modifications. By leveraging VMware Cloud, IIJ Global Solutions Vietnam enables a smooth migration process by incorporating the design concept and operational structure of on-premises environments as-is.
"IIJ and VMware have been longstanding  collaborators starting with our successful collaboration on the renowned IIJ GIO brand across Japan and 7 other countries since 2009.  Notably, with the joint venture, HI GIO Cloud, between FPT and IIJ, based on VMware vSphere in Vietnam, we are enabling organizations to extend their workloads to the cloud effectively, providing enhanced agility and scalability. We are proud to collaborate with VMware to offer cutting-edge cloud solutions to our mutual valued customers." said Kenichiro Okizaki, Vice President, CTO of IIJ Global Solutions Vietnam.
IIJ Global Solutions Vietnam's expanded collaboration with VMware unlocks new possibilities for organizations seeking to optimize their IT infrastructure and embrace the benefits of cloud computing. By harnessing the power of IIJ GIO and the expertise of VMware, businesses can achieve accelerated cloud migration timelines and gain a competitive edge in today's digital landscape.
"Our partnership with IIJ Global Solutions Vietnam is a testament to our unwavering commitment to empower customers in seamlessly migrating their enterprise applications to the cloud while aiming to ensure the highest levels of security and maintaining full control over their data and other valuable assets. This collaboration enables enterprises in Vietnam to address the concerns of their customers and deliver a cloud infrastructure that meets their unique requirements." said Venkatesh Murali, General Manager and Country Leader for Nascent Markets and Vietnam, VMware
About HI GIO CLOUD
HI GIO Cloud is the very first full-scale public cloud service in Vietnam, and the unique product of powerful collaboration between two leading technology companies, FPT Telecom and IIJ Japan.
About IIJ Global Solutions Vietnam
A subsidiary of IIJ Group, which has been leading as a pioneer in the field of enterprise networks, infrastructure, and cloud solutions around the globe since its establishment in 1992. ​Established in 2016, with the mission of enhancing business productivity and flexibility to go one step further, we provide turn-key cloud & security solutions, and IT consulting & system integration service in Vietnam.